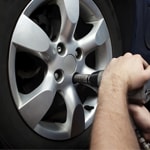 We enjoy sharing knowledge with our customers here at Hansel Ford. Today's post is all about the two main types of spare tires. You should know the difference between these types because each offers various benefits and should be used differently.
If you drive a small car or SUV, you probably have a compact temporary spare. This type is also commonly referred to as a donut. It takes up little space in your car and is convenient to haul. You need to know that this type of spare isn't meant to be driven more than 70 miles. You'll also want to drive relatively slow on a donut.
With a full-size spare, you can utilize your normal driving habits. You can also expect that this type of spare will last quite a while before needing to be changed. Add it to your regular tire rotation. What some drivers may not appreciate is the amount of cargo space it takes up.