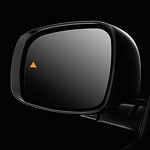 At Hansel Ford in Santa Rosa, CA, we want our customers to be aware of the safety features available in the vehicles they can purchase and drive. One such available safety feature found in new vehicles is the blind-spot monitor.
A blind-spot monitor uses sensors that are attached to the side mirrors and rear bumper to detect other cars in your vehicle's blind spots. When a vehicle is detected in your car's blind spot, you will be given a visual and/or audible warning to let you know that another car is in your blind spot. The blind-spot monitor system is standard in many new car models but can also be added to many models for an additional price.
Since you cannot see what is in your blind spot, a blind-spot monitor can be incredibly useful in avoiding an accident when switching lanes. It alerts you of other motorists in your blind spot so that you know when you can and cannot safely switch lanes.