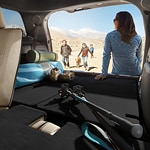 From its sophisticated cabin to its dynamic exterior, the new Ford Explorer is a class act. This popular three-row SUV does it all and can provide a host of automotive attributes. Some of the most advanced technologies are available as well as some of the most premium upholstery.
The new Ford Explorer can be purchased with either a rear-wheel-drive system or four-wheel-drive system. More adventurous types should opt for the rear-wheel-drive model as it will provide a more thrilling experience. Ford offers an abundance of powertrains that are efficient. This includes a 2.3-liter engine, a hybrid 3.3-liter engine, and a standard 3.0-liter engine. Horsepower will range between 300 to 400 ponies. The available ST trim will blast to a top speed of 143 mph, and the driver will get 415 pound-feet of torque.
The options are endless, which is why you should stop by our showroom today.